Ophthalmology Associates is pleased to offer pediatric eye care as part of their service line. We have equipment specifically designed for child and family eye care and eye care for children and Dr. Nathan Carpenter has comprehensive pediatric eye care training in working with youth and treating children's eye conditions which include:
Surgery, microsurgery and laser surgery (for problems like weak eye muscles, crossed eyes, wandering eyes, blocked tear ducts, retinal problems and infections)
Diagnose problems of the eye caused by diseases of the body such as diabetes or juvenile rheumatoid arthritis (JRA) and other medical and neurological diseases
Diagnose visual processing disorders
Care for eye injuries
Prescriptions for eyeglasses and contact lenses
At Ophthalmology Associates, we take the time to understand child and family eye care. Often, children cannot always articulate what's bothering them and may have difficulty answering medical questions. They may not have the patience and cooperation during a medical examination. Dr. Carpenter offers the know-how and experience to examine and treat a variety of eye conditions related to pediatric eye care.
If your pediatrician suggests that your child have his eyes checked, Ophthalmology Associates has a wide range of expertise and treatment options for children's eye disorders.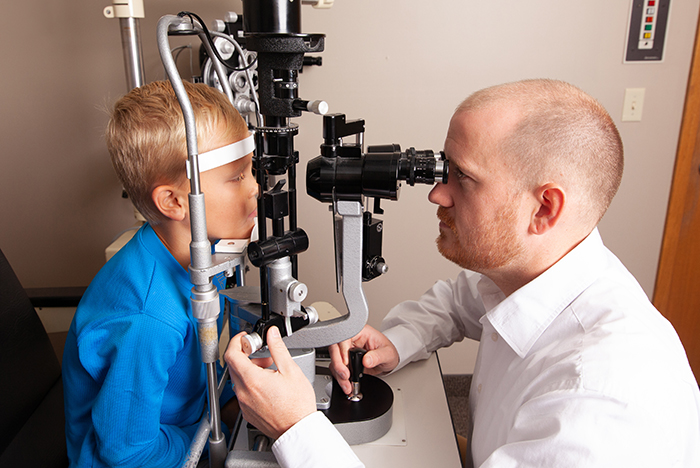 Recommended Pediatric Eye Care Exam Schedule
0-3 years old (if recommended by a pediatrician)
4-7 years old: first comprehensive exam (if not done earlier)
8+ years old: every two to three years
Convenient Eye Care
OUTREACH CLINICS
Our doctors do outreach care including exams and surgery. Check out our locations.
Contact lEns Refills
REQUEST A REFILL FOR YOUR CONTACT LENSES TODAY!
We will contact you via phone or email to confirm your refill.
Dr. Birkholz specializes in cataract surgery, LASIK eye surgery, medical retina, glaucoma management and more.
Our doctors have vast experience performing LASIK surgeries. We would be more than happy to provide further education on LASIK.
We can help you get the vision care you want and need with Wells Fargo, CareCredit or Alphaeon convenient payment plans.
Request An Appointment
Ophthalmology Associates has been serving the greater Mankato area for over 50 years and our goal has been to provide our patients with the utmost in personal attention and the very best in eye care services. Contact us to set up your appointment today!