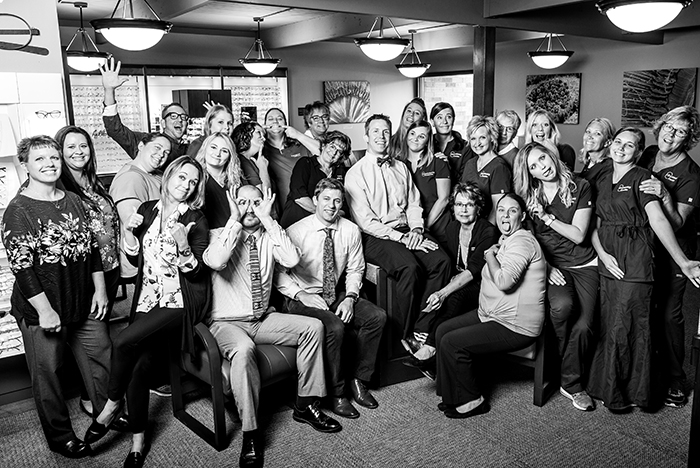 At Ophthalmology Associates, we are always looking for qualified individuals that want to join our team. Are you a master multi-tasker? Are you a true team player? Do you have a true desire to make a difference in our patients and clinic family? Most importantly, do you have a positive attitude that yearns for new ideas and change—and a willingness brainstorm and share those ideas freely? If so, we want to talk to you! Ophthalmology Associates values employee's new ideas and embrace them—yet each day at our practice is never the same.
We are always accepting applications for qualified individuals that want to join our team. Please forward your resume and cover letter to Sara.Emich@mankatoeyedoctors.com or feel free to drop by and fill out an application.
2020 Employee
BENEFITS SNAPSHOT
We offer our employees comprehensive, high-quality benefits at a reasonable cost.
One of my favorite things about working at OA is the variety of services we perform and the variety of conditions we see and treat. Everything from routine eye exams to cataract and glaucoma evaluations, retinal injections, Lasik, minor procedures and traveling to our outreach clinics all make each day different and exciting. There are always new things to learn and no matter how many years you have been in this field, you will still come across things you've never seen before! 
As an ophthalmic technician, I feel a sense of pride knowing that our team of dedicated medical staff directly improves each patient's quality of life by maximizing his or her level of vision. 
I feel respected and valued for what I bring to the practice. It is nice to have the flexibility to attend to family matters if necessary. The Ophthalmology Associates staff are my second family. All the doctors know you by name and are very personable. This job is challenging and every patient is different. You learn something new every day. 
My coworkers have quickly become some of my best friends! Every day is an opportunity to learn more about the clinic and what we do here. I enjoy every challenge, every patient, and each new experience at Ophthalmology Associates. Hard work is valued and appreciated here and I know I make a difference every day.